Canada Games Open ID Camp Registration is now Open!
---
---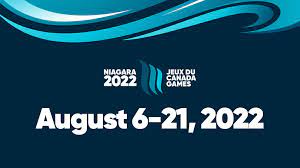 ---
CANADA GAMES OPEN TALENT ID CAMPS!
In 2022 Lacrosse will make history as Canada's National Summer Sport returns to the Canada Summer Games! The Saskatchewan Lacrosse Association is now accepting registrations for the open talent ID camps for players who wish to try out! Please see below for link to register and import information regarding the try out process.
CAMP DATES
November 20th & 21st at the Henk Rhys (Soccer Facility) in Saskatoon
December 12th at the SASKTEL CENTER in Saskatoon (on the Rush Turf and the day after the 1st Rush Home Game of the season!) A HUGE thank you to the Saskatchewan Rush for making it possible to use this facility!
Please note that players who can not attend either open camp may be able to attend one invitational camps as their open try out depending on reason for missing the open camps, there is a place in the registration to indicate if a player can not attend an open ID camp and rationale. Players MUST be registered by November 20th in order to be eligible to try out for the Canada Game teams UNLESS Coaches determine they need to extend the registration period.
ELIGIBLE PLAYERS
Players born in the following years are eligible to try out:
2006
2005
2004

Please note that spots are very limited for 2004 athletes as they are considered overage players. The Male team is allowed ONE overage player and the Female team is allowed TWO overage players. Canada Games will come before any other National Championship.
ROSTER SIZE
Roster sizes for Box Lacrosse in the Canada Games are:
TRY OUT PROCESS
All players are invited to the Open Talent ID Camps. From there our Coaches and Evaluators will determine who gets invited back to training camps as the team roster becomes finalizes. Teams may carry a larger roster for training camps while determining final roster spots. November 20th will be a skills camp with guest Coaches and November 21st will be scrimmages (players will be assigned to teams). December 12th could see a combination of skills and scrimmages or just one depending on what Coaches feel they need to see. Canada Game Coaches will be evaluation but SLA will also be bringing in outside experienced evaluators. Skill Shark will be used for evaluations so players can receive a report card. If selected to training camps players should expect to meet in person at least once a month until April, and take part in online training and at home conditioning. There may be a further cost for training camp participation. Arrangements are being made to play Team Alberta and Team Manitoba training teams as part of the selection process and preparation process for the games.
Please note that players who move on in the selection process MAY need to be double vaccinated as many training facilities around the Province that the team would utilize require players to be double vaccinated, as well with the team needing to travel there are vaccination requirements with travel.
COST
Cost to attend the Open Camps is $100 to cover floor time, cost of guest Coaches, skill shark program, and try out pinnies for players.
ADDITIONAL OPPORTUNITY FOR FEMALE PLAYERS
The Saskatchewan Lacrosse Association is trying to send a team to the 2022 Women's Field National Championships in Alberta, in order to minimize travel for female athletes who wish to take part in both the Women's Field Lacrosse program and Canada Games we are trying to align practices on the same weekends.
HOW TO REGISTER
Players can use the link below to register. Registrations will be accepted until the November 20th (start of the open ID camps). If players are unable to attend the open ID camps they still must be registered by November 20ths to be considered as stated above.
If there are any questions about Canada Games or the teams please email teamsask@sasklacrosse.net.
Good luck to all the players trying out!