Team Sask SAVE THE DATE
---
---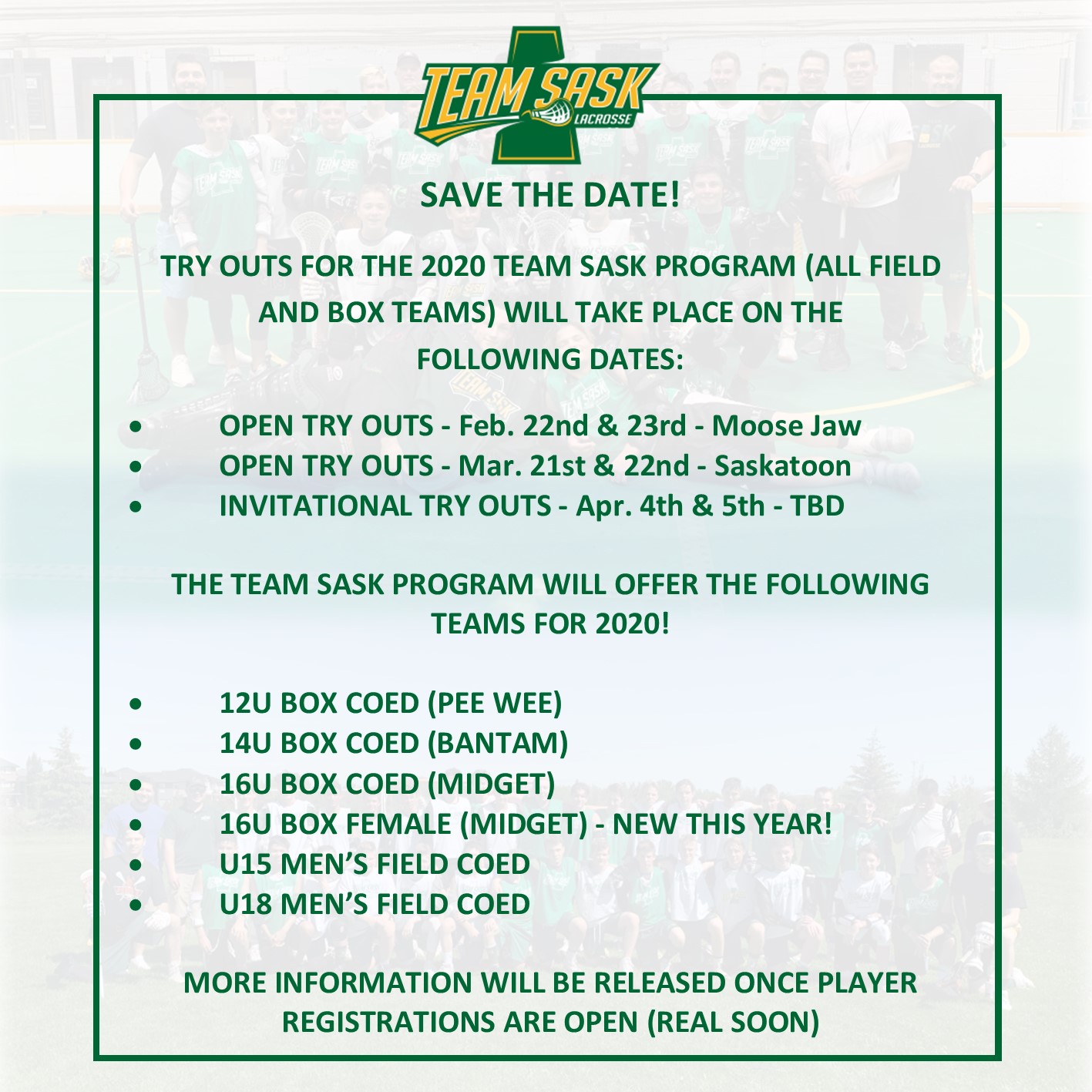 ---
Good Afternoon,
The SLA is excited for the upcoming 2020 season, and with that starts planning for the Team Sask program. The Team Sask program is SLA's elite teams that represent Saskatchewan at the Canadian Lacrosse Association National Championships. The program is home to the following teams:
12U Box Coed (previously called Pee Wee)
14U Box Coed (previously called Bantam)
16U Box Coed (previously called Midget)
16U Female - NEW THIS YEAR!
U15 Men's Field Coed
U18 Men's Field Coed
Teams will travel to British Columbia, Ontario and Quebec to battle to become National Champions! The Box teams will compete from August 16th - 21st and the Field teams will compete September 4th - 6th.
There will be three sets of Try Outs for the program this year, two Open Try Outs that all players are invited too, and a set of Invitational Try Outs which the top 30 - 40 players will be invited to after Open Try Outs. The Try Out dates are as follows:
Open Try Outs: February 22nd (Box) and 23rd (Field) in Moose Jaw
Open Try Outs: March 21st (Box) and 22nd (Field) in Saskatoon
Invitational Try Outs: April 4th and 5th - Location TBD
More detailed information will be sent out when Player Registration opens (which will be soon!), including what to expect at Try Outs, and what the steps are if a player is unable to attend a Try Out, we just wanted to get the dates for Try Outs sent ASAP so players can start planning!